Multiple destination orders
Download spreadsheet
Spreadsheets take 48 hours to process and standard shipping times apply. Submit all orders by 8 December 2023 to ensure delivery by 23 December 2023.
Download and complete the spreadsheet, providing information in the highlighted columns. Email the spreadsheet to IBMMultiShip-to@Staples.com. Include in the email the:
Products you want to order
Payment method, credit card* or purchase order PO)**
If paying by credit card, you'll receive an invoice.
Billing address
Note card copy (text only), if you would like to include a
4x6 note card for an additional USD per shipment
*If you're paying by credit card:
Do not place your order online. We'll ask for your credit card details prior to shipment.
** If you're paying with a PO, place your order in the e-store with the following information.
The full quantity of products you would like to ship, including the
number of personalized note cards you need.
Ship to: Hold for multi destination, 1520 Albany Place SE, Orange City, IA 51041
Important: You must add a note on the PO to hold for multi-destination ship to addresses. If you don't follow this process, your order will ship out as a single order to the address on your PO.
Note that all multi-destination orders will be priced at first-tier pricing. Ensure that the PO price matches the first-tier pricing shown on the item.
United States kitting options
Would you like to create your own gift sets? Staples Promo can provide you with a wide range of gift and packaging options. Contact Elizabeth.Maske@Staples.com. Include in your email:
Theme or items you are interested in
Budget
Number of recipients
Requested delivery date
Want to provide your recipients a choice of gifts or need help collecting information from your team?
We can help with that too! – Let us create a custom ordering site for your team. We will work with you to create a selection of items that fit your theme or budget.
If you need help, please contact Elizabeth Maske at Elizabeth.Maske@Staples.com.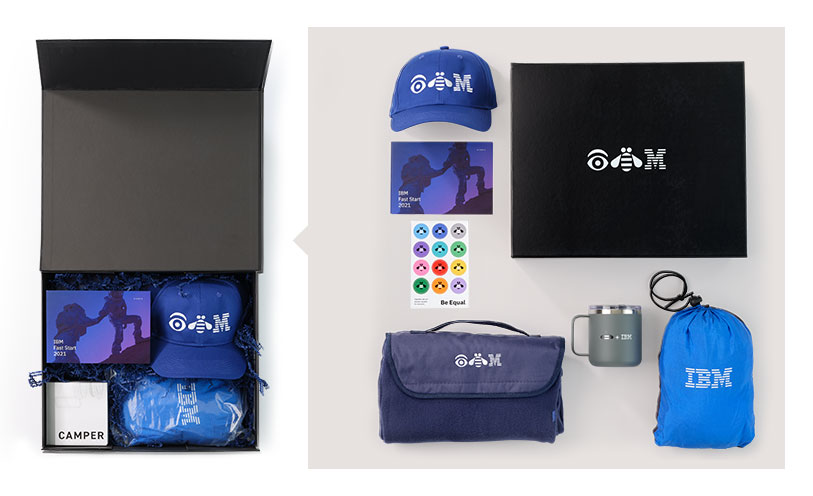 International gifting
Want to send products to multiple locations around the world? Contact Nelson Nast through Slack (@nelsonnast) or by email at nnast@us.ibm.com or logostore@us.ibm.com. Include in your email:
List of countries
List of products
Quantity per country
Required delivery date
Payment method
Custom note card option
(US orders only)
Want to add a personal touch to your shipment?
Add custom note card at checkout and enter your customized message.